Description
Welcome to Indigo Residence: Your Gateway to Serene Living near Dasoudi Eucalyptus Park and the Sparkling Mediterranean Waters
Discover Indigo Residence, an exquisite low-rise block house gracefully poised in front of the renowned Dasoudi eucalyptus park, beckoning you to a life of tranquility and leisure. Nestled in a serene and picturesque locale, this exclusive complex offers an idyllic oasis while keeping you seamlessly connected to urban conveniences. A seamless blend of nature's beauty and modern living awaits, with an array of stores, pharmacies, banks, bakeries, and supermarkets just a stone's throw away.
Architectural Brilliance and Unparalleled Comfort Unveiled at Indigo Residence
Indigo Residence stands as a testament to meticulous craftsmanship and innovative design. This distinguished haven was meticulously designed to offer discerning residents a living experience beyond compare. Each facade boasts an elegant and captivating design, harmoniously blending with the surroundings. The complex is a true masterpiece, featuring premium materials, impeccable layouts, and superior construction standards, ensuring that every corner radiates with sophistication and comfort.
A Wealth of Amenities at Your Doorstep
Indigo Residence caters to your every desire, presenting a plethora of amenities within its well-appointed premises. Dive into a refreshing haven with the on-site swimming pool, perfect for unwinding beneath the sun's warm embrace. Embrace a holistic lifestyle at the modern gym, empowering you to stay fit and vibrant. Your haven also features a private parking area, safeguarding your vehicle while providing unmatched convenience. Furthermore, private storage rooms offer ample space to keep your belongings organized and accessible. The gated entrance with controlled access ensures your security, allowing you to revel in peaceful living.
An Array of Living Options to Suit Your Taste
Indigo Residence presents an array of living options tailored to your preferences. Choose from five luxurious 2- and 3-bedroom apartments, each meticulously designed to maximize comfort and elegance. Alternatively, indulge in opulent living with one of the three lavish 3-bedroom penthouses, boasting exclusive private rooftop pools that elevate leisure to unprecedented heights. No matter your choice, your dwelling is meticulously curated to provide an ambiance of sheer luxury and bliss.
Unrivaled Advantages Await
Experience the Indigo Residence advantage, a harmonious fusion of natural splendor and modern sophistication. Immerse yourself in the soothing embrace of the rest zone, where tranquility reigns supreme. Elevate your well-being in the state-of-the-art gym, offering a sanctuary for invigorating workouts. Relish the delight of a refreshing dip in the alluring on-site pool, a haven for relaxation and rejuvenation. Our penthouses redefine opulence, featuring private rooftop pools that grant an exclusive escape in the heart of paradise. Your vehicle finds a secure abode in the designated parking area, while your cherished possessions are neatly stored in private storage rooms. Rest easy knowing that our round-the-clock CCTV surveillance guarantees your safety, allowing you to bask in carefree living.
In Conclusion
Indigo Residence presents a lifestyle beyond compare, where architectural brilliance, natural beauty, and modern conveniences converge. Nestled in a tranquil enclave near Dasoudi eucalyptus park and the azure Mediterranean shores, this exclusive haven offers an impeccable fusion of luxury and comfort. Elevate your living experience at Indigo Residence, where serenity meets sophistication, and your dream life becomes reality. Embrace the Indigo Residence advantage today and unlock a world of unparalleled living.
h3>Research and Search Ideas for Indigo Residence


Real Estate Trends in Cyprus: Investigate current real estate trends, demand for luxury properties, low-rise developments, and modern amenities.


Architectural Innovation: Explore innovative designs, building facades, layouts, and construction materials.


Urban Oasis Living: Study the concept of peaceful urban environments and benefits for well-being.


Benefits of Eucalyptus Parks: Research advantages of nearby green spaces and health benefits.


Luxury Apartment Features: Examine interior trends, finishes, and facilities like private pools and gyms.


Modern Gym and Wellness Trends: Investigate fitness equipment, programs, and wellness offerings.


Rooftop Pools and Urban Retreats: Explore luxury living with private rooftop pools and urban retreat concepts.


Safe and Secure Living: Study gated entrances, CCTV surveillance, and their impact on residents' peace of mind.


Local Amenities and Convenience: Explore nearby stores, pharmacies, banks, and their influence on living experiences.


Real Estate Investment: Research investing in Cyprus, market conditions, growth prospects, and returns.


Customer Testimonials and Reviews: Search for resident feedback to understand the living experience.


Local Community and Lifestyle: Discover cultural attractions, dining, entertainment, and events in the surrounding area.


More details
Specifications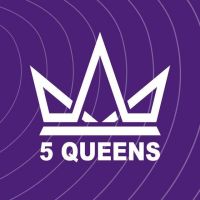 Developer:
5Queens Development
Since 2009
---
Other properties from the developer 5Queens Development:
---
Looking to list your properties with us? Simply say 'hello' to start!