Description
Luxury Living with Breathtaking Sea Views - Welcome to "The Elite"!

Experience the pinnacle of modern luxury in an exclusive location just moments away from the vibrant city center. "The Elite" is a prestigious new development that promises an extraordinary lifestyle with its range of exquisite apartments. From elegant 1 and 2-bedroom residences to opulent 3-bedroom penthouses boasting private roof gardens, every aspect of this project exudes sophistication and elegance.


Immerse yourself in awe-inspiring sea views that greet you from the windows of each apartment. The panoramic vistas are just one of the many highlights thoughtfully designed to ensure an unparalleled living experience. At "The Elite," we believe in delivering nothing but the highest quality, and every detail has been meticulously crafted to perfection.


Indulge in the pleasures of luxury living where convenience meets natural beauty. Nestled in the mesmerizing landscape of Limassol, "The Elite" allows you to enjoy the best of both worlds - the bustling city life and the serene expanse of the sea.

Why Choose "The Elite"?

- Prime Location: Situated near the heart of the city, "The Elite" offers easy access to all the urban conveniences while being a peaceful retreat away from the hustle and bustle.


- Unmatched Views: Feast your eyes on the enchanting sea views that stretch as far as the eye can see. Each apartment has been carefully oriented to make the most of this breathtaking feature.


- Impeccable Design: The architectural brilliance of "The Elite" is matched only by its interior design. Every apartment reflects a blend of contemporary aesthetics and timeless elegance.


- Luxury Amenities: As a resident of "The Elite," you'll have access to a range of luxury amenities designed to cater to your every need. From state-of-the-art fitness centers to relaxing swimming pools, we have it all.


- Personalized Spaces: Whether you choose a cozy 1-bedroom apartment or a lavish 3-bedroom penthouse, each living space can be tailored to suit your unique taste and preferences.


- Secure Living: Your safety and security are paramount to us. "The Elite" provides top-notch security measures to ensure you can relax and enjoy your luxurious lifestyle without worry.


- Proximity to Nature: Aside from the mesmerizing sea views, "The Elite" is surrounded by green spaces, parks, and walking trails. It's the perfect balance of urban living and natural serenity.

A Seamless Blend of Convenience and Luxury

Imagine waking up to the sound of waves gently crashing against the shore and savoring your morning coffee while the sun rises over the glistening sea. At "The Elite," this dream can become your reality. Our exceptional project offers a rare opportunity to embrace an unrivaled lifestyle in a location that has it all.


Whether you seek a tranquil sanctuary to unwind after a busy day or a vibrant community to connect with like-minded individuals, "The Elite" caters to all your desires. The city center is just a stone's throw away, inviting you to explore its cultural offerings, fine dining establishments, and vibrant entertainment scene.


Don't miss the chance to own a piece of this exclusive paradise. Experience luxury living like never before - with sweeping sea views and world-class amenities, "The Elite" is the epitome of opulence and refinement.

In Conclusion

"The Elite" presents a once-in-a-lifetime opportunity to experience luxury living at its finest. Offering a range of meticulously designed apartments, breathtaking sea views, and an unbeatable location, this project has it all. Embrace the extraordinary and secure your place in this exclusive community, where convenience and beauty coalesce to create an unparalleled lifestyle. Contact us now to begin your journey towards owning a piece of this exquisite haven.

Research and Search Ideas:

1. Luxury real estate in Limassol: Explore high-end properties and luxurious apartments with sea views in Limassol.


2. Seafront living in Cyprus: Discover the allure of living by the sea in Cyprus with modern amenities and stunning vistas.


3. Best neighborhoods in Limassol: Learn about the prime locations near the city center offering a blend of convenience and natural beauty.


4. Buying penthouses in Limassol: Find out about opulent penthouses with private roof gardens and panoramic sea views.


5. Top developers in Cyprus: Research reputable developers offering luxury projects like "The Elite" in Limassol.


6. Limassol property investment: Understand the potential ROI and long-term benefits of investing in luxury properties in Limassol.


7. Living near city centers: Explore the advantages of living close to city centers with access to cultural attractions and entertainment.


8. Interior design trends for luxury apartments: Stay updated on the latest design trends and ideas to personalize your living space.


9. Luxury amenities in real estate: Discover the high-end amenities and facilities offered in luxury developments.


10. Cyprus citizenship by investment: Explore the possibility of obtaining Cyprus citizenship through property investment.


11. Experiencing the Mediterranean lifestyle: Learn about the lifestyle and experiences of living in a coastal city like Limassol.


12. Top attractions in Limassol: Explore the best places to visit and things to do in and around Limassol.


13. Health and wellness facilities in luxury properties: Find out about state-of-the-art fitness centers, spa facilities, and wellness offerings.


14. Sustainable living in modern developments: Research eco-friendly and sustainable features incorporated in luxury projects.


15. Waterfront properties in Cyprus: Explore other seafront properties and developments along the Cypriot coastline.


16. Mediterranean cuisine in Limassol: Indulge in the local culinary delights and explore the vibrant food scene of Limassol.


17. Expatriate life in Cyprus: Discover what it's like to live as an expat in Cyprus and the benefits of the local lifestyle.


18. Nightlife and entertainment in Limassol: Learn about the vibrant nightlife and entertainment options in the city.


19. Limassol property market trends: Stay informed about the current real estate market trends and forecast for the area.


20. Moving to Cyprus: Research the process and requirements for relocating to Cyprus for a luxury living experience.

More details
Specifications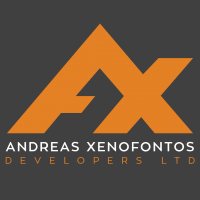 Developer:
Andreas K. Xenofontos Construction & Developers Ltd
Since 1998
---
---
Looking to list your properties with us? Simply say 'hello' to start!