Description
Discover the Ultimate in Modern Living: Business Class Apartments & Duplexes
Welcome to DUAL RESIDENCE, an extraordinary residential project that combines modern architecture, stunning exteriors, and a groundbreaking design concept. Our business class development offers an exceptional living experience, with meticulous attention to detail in every aspect.
Experience the Epitome of Luxury Living
DUAL RESIDENCE presents two blocks of seven floors each, comprising a total of 34 lavish 2 and 3-bedroom apartments & duplexes. Step into a world of opulence, where spacious interiors and covered verandas allow residents to bask in the refreshing sea breeze and enjoy the Mediterranean's mild climate. Each apartment is adorned with premium finishes and high-end features, meticulously designed to prioritize resident comfort and elevate the island living experience. Your every need has been carefully considered, ensuring a truly luxurious lifestyle.
Unparalleled Amenities for a Resort-Style Living
Immerse yourself in an indulgent resort-style atmosphere at DUAL RESIDENCE. Our exceptional amenities include a captivating swimming pool, a state-of-the-art gym, a gated entrance for enhanced security, and a delightful children's playground. By fostering a sense of community within the development, DUAL RESIDENCE offers a private sanctuary without compromising on breathtaking views and open skies.
Impeccable Features to Enhance Your Living Experience


2 & 3 bedrooms, including en-suite master rooms


Guest WC for added convenience


Open plan Italian kitchen and dining area, perfect for entertaining


Living area with a covered veranda, seamlessly blending indoor and outdoor living


High ceilings adorned with LED spotlights, creating an elegant ambiance


Spacious covered areas ranging from 125 to 258 square meters


Electric shutters in bedrooms for privacy and comfort


Private underground parking for secure convenience


Private storage rooms to accommodate your belongings


Double glazed windows for enhanced energy efficiency and noise reduction


Business class living at its finest


Located only 150 meters from the mesmerizing sea


Mesmerizing sea views to soothe your senses


Modern design that exemplifies contemporary elegance


Upgraded specifications for a truly refined living experience


Energy Efficiency A rating for eco-conscious living


Beautifully landscaped gardens that enhance the surroundings


Gated secure entrance with a dedicated concierge for peace of mind


Communal swimming pool for relaxation and leisure


Underfloor heating for ultimate comfort


Children's playground for the little ones to enjoy


Gym area to promote an active and healthy lifestyle


Investment Highlights that Stand Out


Business class apartments & duplexes offering 2 & 3 bedrooms


Starting prices from €815,000+VAT, ensuring exceptional value


Forecasted ROI of up to 5%, making it a secure investment opportunity


Guaranteed title deeds for peace of mind


Reserve your unit with a minimum amount to secure your investment


Early bird incentives, providing exclusive discounts


Completion scheduled for Q2 2025, allowing you to plan ahead with confidence


Experience the epitome of modern living at DUAL RESIDENCE, where luxury, convenience, and exceptional design come together seamlessly. Don't miss your chance to invest in this extraordinary opportunity. Contact us today to reserve your piece of paradise.
Research and Search Ideas for Dual Residence
1. Comparisons:
Research and compare the features, amenities, and pricing of Dual Residence with similar luxury apartment complexes or duplex developments in the area.
2. Location Analysis:
Conduct a search on the surrounding area of Dual Residence, including nearby attractions, amenities, schools, shopping centers, and transportation options to highlight the convenience and desirability of the location.
3. Real Estate Market Analysis:
Explore the current real estate market trends and property values in the region where Dual Residence is located, showcasing the potential for growth and return on investment.
4. Lifestyle Articles:
Create articles highlighting the benefits of modern living, business class apartments, and duplexes, emphasizing the luxurious amenities, spacious interiors, and contemporary designs.
5. Sustainable Living:
Focus on the energy-efficient features and eco-friendly design aspects of Dual Residence, appealing to environmentally conscious buyers or investors.
6. Investment Opportunities:
Provide detailed information about the investment potential of Dual Residence, including projected ROI, rental income possibilities, and tax incentives.
7. Customer Testimonials:
Gather testimonials or reviews from residents or potential buyers who have experienced the exceptional lifestyle and quality of Dual Residence, showcasing their satisfaction and positive experiences.
8. Interior Design Tips:
Create articles or blog posts offering tips on how to decorate and make the most out of the spacious interiors and modern design features offered by Dual Residence.
9. Financing Options:
Research and provide information on available financing options, mortgage rates, and loan programs for potential buyers interested in investing in Dual Residence.
10. Local Area Guide:
Develop a comprehensive guide to the local area surrounding Dual Residence, including nearby restaurants, entertainment venues, parks, and recreational activities, to highlight the attractive lifestyle and convenience of the location.
More details
Specifications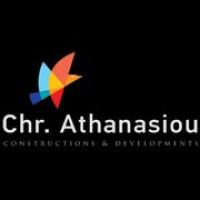 Developer:
Chr. Athanasiou Constructions & Developments
Since 1975
---
Other properties from the developer Chr. Athanasiou Constructions & Developments:
---
Looking to list your properties with us? Simply say 'hello' to start!