Description
Introducing BROW HILL: Luxury Apartments with Stunning Views
BROW HILL presents a prestigious residential complex comprising two distinct sections, BROW HILL A and BROW HILL B. These meticulously crafted apartments offer a range of options, including 1-bedroom, 2-bedroom, 3-bedroom, and 3+1-bedroom penthouses with rooftop pools. Each unit is constructed using premium materials of the highest quality, sourced from renowned brands specializing in sanitary ware, ceramics, aluminum, doors, and cabinets.
Impeccable craftsmanship is evident both inside and outside the building, adorned with contemporary decor and architectural elements that create an exceptional and distinctive ambiance. Moreover, all apartments boast breathtaking sea views, providing residents with an immersive coastal experience.
Location-wise, BROW HILL offers convenient access to the motorway, ensuring seamless connectivity to nearby areas. Nestled in a tranquil neighborhood, the complex offers a serene and peaceful living environment. Situated in a modern area, surrounded by new houses, BROW HILL stands proudly atop elevated ground, affording residents magnificent panoramic views of the town and sea. Furthermore, its proximity to the city makes it an ideal choice for those seeking a harmonious blend of urban convenience and natural beauty.
Each apartment at BROW HILL comes with an array of desirable features, including:


Energy-efficient design, prioritizing sustainability and reduced utility costs.


Captivating seaviews from every apartment, allowing residents to indulge in the coastal beauty.


Penthouses with private pools and rooftop gardens, offering a luxurious and exclusive lifestyle.


Private storage spaces, ensuring ample room for personal belongings.


Dedicated parking areas, providing secure and convenient parking options.


Thermally insulating polystyrene throughout the building, ensuring optimal temperature regulation and energy efficiency.


Provision for heating systems, allowing residents to maintain comfortable living spaces.


Provision for air conditioning, ensuring a cool and pleasant atmosphere year-round.


Double-glazed windows for sound insulation, promoting a peaceful and quiet indoor environment.


Thermal insulating aluminum fixtures, enhancing energy efficiency and durability.


High-quality sanitary ware, exemplifying elegance and functionality.


Synthetic granite countertops in the kitchen, combining style with practicality.


High ceilings, adding a sense of spaciousness and grandeur to each apartment.


Electric opening gates for parking, offering enhanced convenience and security.


Luxurious ceramic tiles measuring 60cm x 120cm, exuding elegance and sophistication.


For those curious about the surrounding area, BROW HILL boasts a strategic location near essential amenities and landmarks:


Only 11 km from the New Hospital, ensuring easy access to top-tier healthcare facilities.


A mere 7 km from the Marina Limassol, offering a vibrant waterfront atmosphere with a plethora of dining and entertainment options.


Just 3.5 km from the beach, allowing residents to indulge in the sun, sand, and sea.


Merely 2 km from the Gas Station, providing convenient access to fuel and automotive services.


A short 800 m from the Supermarket, ensuring effortless grocery shopping.


Close proximity of 1.2 km to the Pharmacy, ensuring quick access to healthcare necessities.


Merely 1.2 km from the Bank, providing hassle-free banking and financial services.


Conveniently located 1 km from the Cafe, offering a cozy spot for socializing and relaxation.


A mere 800 m from the Bakery, allowing residents to enjoy fresh baked goods.


In close proximity, only 200 m from the primary school, providing easy access to education.


Merely 2.6 km from the Grammar School, offering quality education for older students.


Discover the epitome of luxury living at BROW HILL, where impeccable design, stunning views, and a convenient location combine to create an unrivaled residential experience. Embrace a lifestyle of elegance, comfort, and natural beauty by making BROW HILL your new home.
Comparative Analysis:
Conduct a comparative analysis of similar luxury apartment complexes in the area, highlighting the unique features and advantages of BROW HILL.
Local Amenities:
Research and provide information about other local amenities in the vicinity of BROW HILL, such as parks, recreational facilities, shopping centers, restaurants, and entertainment venues.
Neighborhood Profile:
Create a comprehensive profile of the surrounding neighborhood, including information about the demographics, lifestyle, and community events.
Lifestyle Benefits:
Explore and emphasize the lifestyle benefits of living at BROW HILL, such as proximity to leisure activities, cultural attractions, and outdoor recreational opportunities.
Investment Potential:
Investigate and showcase the investment potential of purchasing an apartment at BROW HILL, considering factors like property appreciation, rental demand, and potential return on investment.
Construction Quality:
Highlight the superior construction quality of BROW HILL, showcasing the use of high-quality materials, advanced building techniques, and sustainable design principles.
Testimonials and Reviews:
Gather testimonials and reviews from current residents or previous buyers of BROW HILL apartments to showcase the positive experiences and satisfaction of living in the complex.
Architectural Highlights:
Focus on the architectural highlights of BROW HILL, highlighting any unique or innovative design elements that set it apart from other residential developments.
Interior Design Inspiration:
Provide interior design inspiration for residents of BROW HILL, including tips, ideas, and suggestions for creating stylish and comfortable living spaces within their apartments.
Community Events:
Research and promote any community events or social gatherings organized specifically for residents of BROW HILL, showcasing the strong sense of community and fostering a vibrant social atmosphere.
Sustainability Features:
Highlight the sustainable features and practices implemented in BROW HILL, such as energy-efficient systems, renewable energy sources, water conservation measures, and green spaces.
Security and Safety:
Emphasize the security and safety measures in place at BROW HILL, including surveillance systems, gated access, secure parking, and emergency response protocols.
Financing Options:
Provide information on financing options available for potential buyers of BROW HILL apartments, including mortgage options, installment plans, and any special offers or incentives.
Customization Opportunities:
Highlight any opportunities for buyers to customize their apartments at BROW HILL, such as selecting finishes, materials, or layout modifications, to create a personalized living space.
Future Developments:
Research and provide information about any future developments or infrastructure projects planned in the vicinity of BROW HILL, showcasing the potential for further growth and enhancement of the area.
More details
Specifications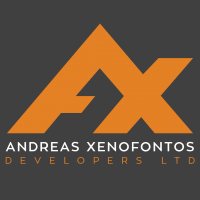 Developer:
Andreas K. Xenofontos Construction & Developers Ltd
Since 1998
---
---
Looking to list your properties with us? Simply say 'hello' to start!