Description
Discover the allure of Souni, a captivating area that seamlessly combines the tranquility of the countryside with the convenience of Limassol city life. Within a short 10-minute drive, you can experience the best of both worlds, indulging in the natural beauty of Souni while enjoying the vibrant amenities of the city.
Stunning Beaches and Scenic Mountains
Despite Souni's distance from the coast, the stunning sandy beaches of Curium, Akrotiri, and Pissouri are easily accessible within a 10-minute drive. Immerse yourself in the crystal-clear waters and unwind on the golden sands, basking in the Mediterranean sun.
For those seeking a different kind of adventure, a 30-minute drive will take you to the enchanting Troodos Mountains. Embrace the beauty of nature, explore scenic trails, and even indulge in skiing during the winter months. Along the way, be sure to visit the picturesque Wine villages, where you can sample exceptional wines at open wineries.
Golf Resorts and Ancient Monuments
Golf enthusiasts will be delighted to discover two major golf resorts within a 20-minute drive, while the upcoming golf resort of Agios Amvrosios is conveniently located just 10 minutes away.
In close proximity to Souni, you can explore ancient monuments of great archaeological significance, such as the Curium amphitheatre and Kolossi Castle, delving into the rich history of the region.
Pine Trees Villas: Serene Luxury in Souni
Welcome to Tryfonos Pine Trees villas, nestled in the southern part of Souni village—a serene and picturesque haven characterized by lush pine trees and verdant landscapes. This exclusive complex comprises 13 spacious villas with unique designs, boasting 3 bedrooms, generous plots with gardens, and ample parking spaces.
Enjoy breathtaking views of the Mediterranean Sea, Limassol town, and the surrounding pine forests, creating a harmonious blend of natural beauty and modern living. The convenient motorway grants quick access to Pafos Airport, ensuring seamless travel experiences, while a short 15-minute drive brings you to the vibrant city life of Limassol.
Unparalleled Amenities and Modern Living
Indulge in a myriad of amenities, from shopping and cultural activities to lively nightlife entertainment and fine dining options. Limassol's charm is showcased through its diverse offerings, catering to every taste and preference.
Embrace the opportunity to reside in Tryfonos Pine Trees villas, where tranquility meets modernity. Escape the noise and congestion of the city, and immerse yourself in the idyllic surroundings of Souni, Cyprus. Contact us today to discover the beauty and serenity of this remarkable real estate project.
More details
Specifications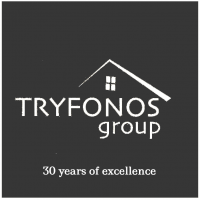 Developer:
Tryfonos Group
Since 1987
---
Other properties from the developer Tryfonos Group:
---
Looking to list your properties with us? Simply say 'hello' to start!